Class Resources for CS-100:
Introduction to Computers and Programming
General
Chapter 1
Chapter 3
Section 3.1
Section 3.2
Solutions
Section 3.3 & 3.4
Class Examples
Chapter Five
Class Examples

Solutions
Chapter Six - Loops
Solutions
Final Exam Review
Part I True/False, Multiple Choice and Short VB Code Segments (50%)
True and False (25%)
These problems will be based on the Visual Basic Relational and Logical Operators. Study this example.
Multiple Choice
Remember the Timer Control, and Scroll Bar Properties
Write VB Code that will:
Be able to write If statements that can test Checkbox and Option Buttons.
Be able to write a DO-WHILE loop, a DO UNTIL loop, and a FOR-NEXT loop that will print out the numbers 10, 9, 8, 7, 6, 5, 4, 3, 2, 1 like we did in class.
Part II Programs (50%)
Here are five programming problems. Three will appear on the final.
1. Guess The Secret Word - Loops (VB Form)
Solution (VB Form)
2. The Moving Ball Animation - Using Timer Controls to Animate A Shape (VB Form)
Solution (VB Form)
3. Create a Temperature Table Showing Celsious and Fahrenheit Representations (VB Form)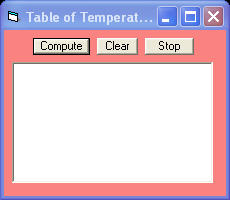 Solution (VB Form)
4. UAH Merchandise Order - Check Boxes and Option Buttons (VB Form)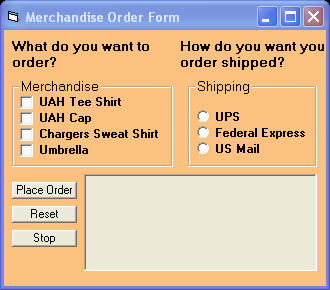 Solution (VB Form)
5. Add Three Numbers Taken From Text Boxes (VB Form)
Solution (VB Form)
Other Stuff
1. How to switch execution among several forms.

From the dropdown menu under "Project" select the bottom menu item. It will have the name of your current VB project followed by the word "Properties". A Project Properties dialog box will appear.


At the upper right of this dialog box there is a dropdown menu for selecting a "Startup Object". Click the dropdown menu and a list of all forms will appear. Move the curser over the list and select the from that you want to appear when you run a program by clicking the left mouse button. The form will appear as the new startup object. Now select the "OK" button at the bottom of the dialog box to complete the operation.